Don't just recover, plan growth
Use 2020 to plan how your short term accommodation business will come out of COVID19 stronger and ready for challenges of 2021.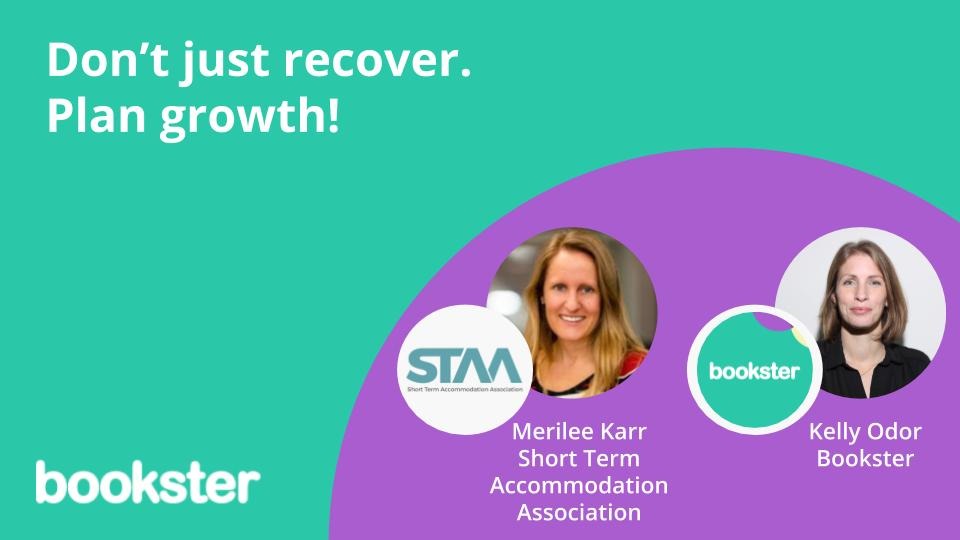 Merilee Karr of the Short Term Accommodation Association (STAA) joined us to discuss how property managers can use 2020 to plan growth and grow stronger.
Don't just recover, plan growth! Strategies to complete in 2020
With Merilee Karr of the Short Term Accommodation Association (STAA)
For our September meet-up we were pleased to welcome special guest speaker Merilee Karr of the STAA.

Merilee wears several hats, from the STAA and also as CEO of agency for luxury apartments and vacation rentals, Under The Doormat, and Hospiria.
Topics covered in the webinar
We discussed how it's important to take advantage of this time in 2020 to plan and prepare for growth in 2021.
We don't know what the future holds, but we do know that preparation is important. Here's what we discussed.
The booking window has dropped, and this should affect at what point you choose, if at all, to reduce prices.
Consumer behaviors has changed, perhaps because consumers don't want to commit until the last possible moment.
Agencies should review their contracts with owners, and look for more flexible, lower-risk strategies can be evaluated.
Work with third-party accreditation companies such as Quality in Tourism, I-PRAC, VisitBritain.
Consider flexible booking terms to attract more bookings, and build the reputation of your company.
Evaluate how you can make your business leaner, including fixed employees, office space, bringing tasks in-house or outsourcing.
Review the business finances regularly to evaluate how long they can survive if a further dry period occurs.
Consider evaluating the existing finances, but not including future commission as part of their finances, should the worst happen and monies need to be refunded back to guests.
---
Links
Got a question for Merilee or Kelly?
Send your questions to kelly@booksterhq.com or contact Merilee on Linkedin.
What is the Short Term Accommodation Association (STAA)?
The Short Term Accommodation Association (STAA) was established in March 2017, with a goal "ensuring greater cooperation to tackle common industry challenges and seizing shared opportunities in this growing sector".
For more information on the STAA and how you can benefit from working with the Short Term Accommodation Association, visit their website.
Everything you need to grow your holiday rental business.
Setup a demo