Don't just recover, plan growth
Key Takeaways
Watch the replay!
During COVID the booking window has dropped, affecting rate management
Consumers are looking for more flexible booking terms
Work with third party companies to demonstrate trust
Think lean - your company shouldn't waste resources
Bookster runs regular events to help you manage your business.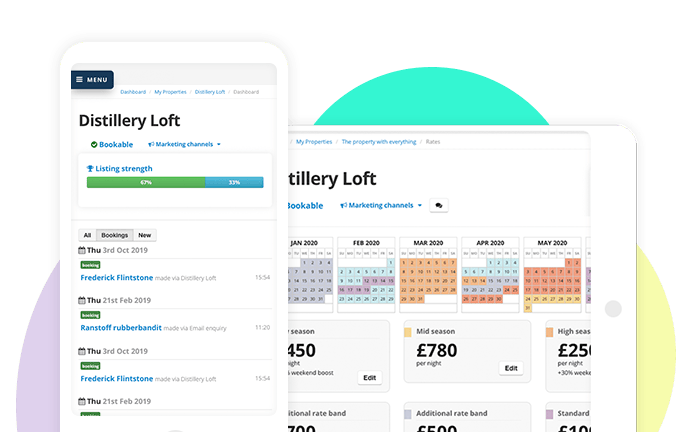 ---
Merilee Karr of the Short Term Accommodation Association (STAA) joined us to discuss how property managers can plan growth and grow stronger.
---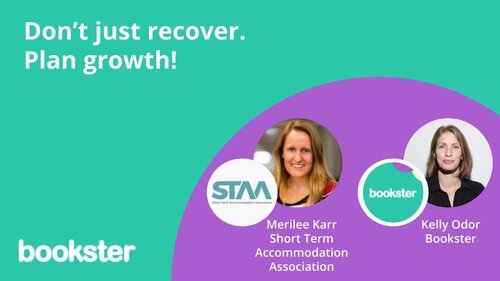 We don't know what the future holds, but we do know that preparation is important.
Don't just recover, plan growth! Strategies to complete
With Merilee Karr of the Short Term Accommodation Association (STAA)
For our September meet-up we were pleased to welcome special guest speaker Merilee Karr of the STAA.
Merilee wears several hats, from the STAA and also as CEO of agency for luxury apartments and vacation rentals, Under The Doormat, and Hospiria.
Topics covered in the webinar
We discussed how it's important to take advantage of this time in 2020 to plan and prepare for growth in 2021.
We don't know what the future holds, but we do know that preparation is important. Here's what we discussed.
The booking window has dropped, and this should affect at what point you choose if at all, to reduce prices.
Consumer behaviors have changed, perhaps because consumers don't want to commit until the last possible moment.
Agencies should review their contracts with owners, and look for more flexible, lower-risk strategies that can be evaluated.
Work with third-party accreditation companies such as Quality in Tourism, I-PRAC, and VisitBritain.
Consider flexible booking terms to attract more bookings, and build the reputation of your company.
Evaluate how you can make your business leaner, including fixed employees, office space, bringing tasks in-house or outsourcing.
Review the business finances regularly to evaluate how long they can survive if a further dry period occurs.
Consider evaluating the existing finances, but not including future commission as part of their finances, should the worst happen and monies need to be refunded back to guests.
---
Links
What is the Short-Term Accommodation Association (STAA)?
The Short Term Accommodation Association (STAA) was established in March 2017, with the goal of "ensuring greater cooperation to tackle common industry challenges and seizing shared opportunities in this growing sector".
For more information on the STAA and how you can benefit from working with the Short-Term Accommodation Association, visit their website.
Vacation rental and self-catering webinars
We host events regularly, supporting our clients and property managers across the globe to grow, and build their property management company.
Join us or click on each link to watch the replay.
Sign up for future events and find out more about what's happening in the self-catering industry, and stay connected with other property managers.
Grow your business with Bookster self-catering platform
Bookster provides integrated property management services for self-catering homes, with a global Channel Manager and integrated custom and template websites.
Working with Bookster will give you the services of a team that you can trust.
With 10+ years in the industry we've built our company to transparently share our experience with you, to maximise your growth.
---
COVID has altered guest booking trends, including length of stay, the window between booking and arrival date, as well as adjusted guest expectations and concerns.
Follow the trends to ensure your business reflects the needs of guests for growth and recovery from the pandemic.