Introducing Booking Insights from Bookster
Use Booking Insights to get a real time data overview of the performance of your vacation rental business.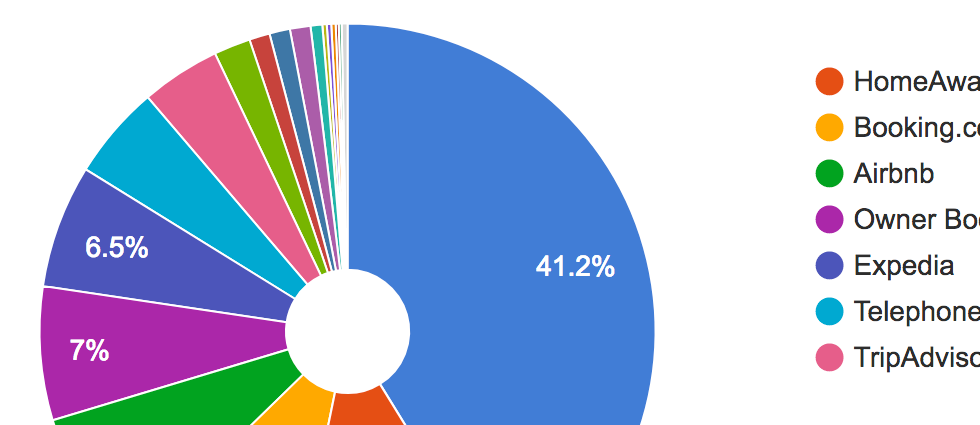 Insights provides a management overview of your bookings including sources, the length of stay and how far in advance reservations are made. Compare and contrast your properties to pick out poor performers and take action!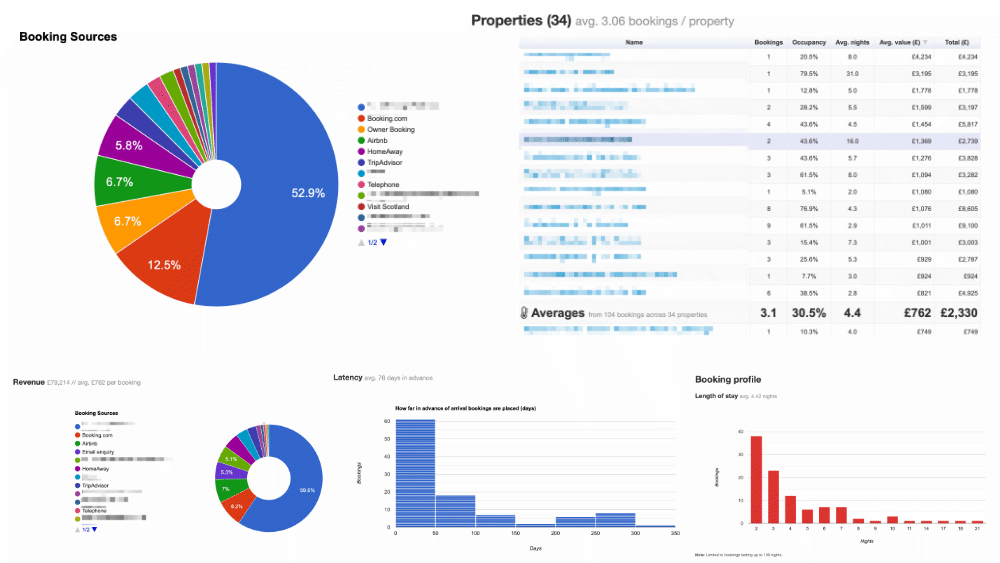 Phase 3 Feb 2019: Exportable data
Based on customer feedback we have now made an update to our 'Insights' management tool.
The data behind the Insights tables and graphs is exportable to Excel, so you can dig deeper into the trends.
Set up the Insights tool to show the data you want, and click on the button 'Export Property Insights to Excel'.
Phase 2 Nov 2018: % Occupancy rate
Now you can see in a glance the % occupancy rate for every holiday let property in your portfolio!
The goal is to highlight which properties are doing well, and which are not. Then we leave you to create your strategy to benefit from those high performers, and what extra work you need to do to increase the occupancy rate.
You can see this all in the property management system, in the Insights section. Filter with a 'Date Uptake: from' date and a 'Date Uptake: 'before' date. This will show a percentage of occupancy for all people within the property between those dates.
Phase 1 Apr 2018: Insights Launch
Insights brings you a powerful management overview of your property portfolio. It provides data analytics into your property portfolio, including occupancy, latency and length of stay to help you assess your high and low performing properties!
Use this data to add to your in-depth knowledge of your customers and reservations to make strategic decisions to improve your revenue in the future.
Below we detail just some of the features that you will be able to use within this data tool.
Booking Sources
Where are your bookings coming from?
Which OTAs or Channels are nailing it for you and which are worth ditching or need attention? Now your can see this information in a glimpse! Put away that spreadsheet or finger in the air gut feeling...
Assess your Booking Sources by:
Number of bookings
Revenue
Length of Stay
Ever wondered how long your guests stay and how that varies per property?
Use Bookster to view your bookings broken down by the number of nights guests spend at each of your properties.
Booking Latency
How far in advance are your Guests booking?
Avoid the "I have no bookings and it is three weeks until peak season!" panic - view a profile graph to understand when your bookings are placed.
This information will help you plan your marketing drives and anticipate when you will fill the gaps in your bookings.
Property comparison
Identify under-performing or high-performing rentals.
View each property in context with others in our portfolio and compare against your average performance.
Total Bookings
Average nights
Average value
Total value
This information will show you where you need to drive marketing campaigns to boost your reservations, and allow you to review your pricing for both high and low performers.
---
We hope that this tool provides you with the insights you need to help your business grow. If you need any further information on this tool, please don't hesitate to contact us.
Here at Bookster we are dedicated to developing and enhancing the features we provide to give your the best property management software to grow your business. Keep an eye on our blog for new features or sign up for our newsletter.
Everything you need to grow your holiday rental business.
Setup a demo