Replay | Embracing the future: Guest trends impacting your business
Key Takeaways
Watch the replay
Learn: The latest changes at Booking.com
New booking trends that can affect your revenue
Improvements to the Booking.com / Bookster connection
Actions you should take now to maximise your opportunities for growth.
Replay | Embracing the future: Guest trends impacting your business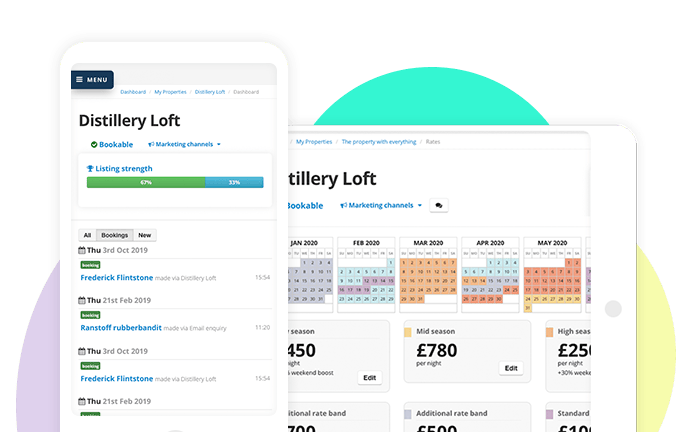 ---
Booking.com returned to Bookster events to highlight new trends that can improve your results for your holiday lets.
---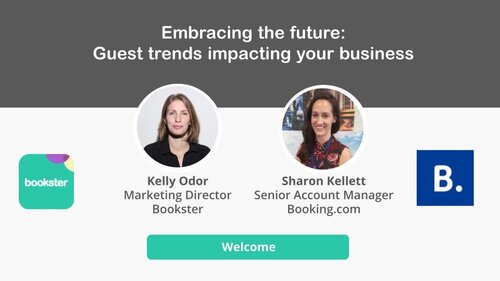 But really, if you're wanting to take good bookings and you want to get set up, you need to be, my recommendation is definitely you need to be ready, you need to have your listings in a really good way.
Watch the Booking.com and Bookster replay:
Embracing the future:
Guest trends impacting your business.
Benefit from working together with Bookster and Booking.com, one of the global channel giants in the holiday let industry.
---
What you'll learn in our Booking.com webinar
You'll learn about:
The latest changes at Booking.com
New booking trends that can affect your revenue
Improvements to the Booking.com / Bookster connection
Actions you should take now to maximise your opportunities for growth.
Who presented?
Sharon Kellett, Senior Account Manager, Booking.com
Kelly Odor, Marketing Director, Bookster.
Links from the event
Market insights
The new market insights on the group homepage sit under the group analytics tab. This is where you can see the demand over the last 14 days into areas that you operate in. (This only applies if you have multiple properties and a group contract with Booking.com)
---
Script (Automatically generated)
My name's Kelly Odor and I'm the marketing director for Bookster.
If you are new to Bookster or perhaps new to Bookster events, I'll just give you a little insight into who we are.
Bookster is a property management software company.
We're based here in Scotland and we specialise in clients with holiday rentals or self catering, Short lets, this particular industry and our goal is to provide tools and techniques to help holiday rental owners and holiday rental managers to manage those time-consuming tasks of running a self-catering business.
So we focus on three core areas.
Channel Management
First is channel management, and that's really important today. That's why we've invited partners such as Booking.com along today. And I'll introduce you to Sharon in a moment.
Property Management Software
We also cover property management software. So that's things like helping you collect your payments, organising your damage deposits, and your booking management.
Direct booking tools
And thirdly, we also offer direct booking tools, and that includes web design of various different techniques, really designed, especially for this industry 'cause it is very special and it does need certain tools built into it.
And we do that.
So your special guest today who I'm delighted to have joined me is Sharon Keller from Booking.com and she's here to offer advice and guidance looking at what trends are actually happening right now and what she can see is coming in the future.
So, Sharon, could you take a moment just to introduce yourself?
Sharon Kellett, Booking.com
Yeah, sure. Hi everyone. yeah, so my name's Sharon. I am currently working as a senior account manager, within Booking.com. And I work specifically with the short term rental side of the business.
And I manage partners, all across London and the south of England, but with properties everywhere, all across the UK and globally as well.
So I help in terms of looking at the current trends that we're seeing, and helping the partners reach their goals, whether it's occupancy, average duty rate, and, and things like that.
And so looking forward to speaking with you all today.
Kelly Odor, Bookster
Fantastic, thank you. I'm gonna start today with two things.
Firstly, to remind everybody who's here, or if you've not been before, we have a kind of comments section on the right-hand side.
And next to it we have a questions section.
So if you have any questions for myself or for Sharon, you're more than welcome to pop those questions in and I'll cover them as we go along and maybe we'll leave some of them towards the end. And secondly, we also have a poll section.
And I'm gonna test this out now by asking you one simple question and it'll really help Sharon to understand who's here today, and that will help her plan how she speaks and what details she goes into.
So first of all, on the right-hand side, I'm gonna make this poll go live, fingers crossed.
And it's asking you whether or not you currently advertise your properties with Booking.com.
So I know some of you may be here from other software companies or other parts of the industry, so that's fine. If you don't, then just put n/a, I can see some people are starting to fill it out already. That is fantastic.
Thank you. I'll let Sharon keep an eye on that while I just move on to my next slide.
Okay, thank you so much to everybody for filling that in. Okay, so I've got just two slides that I'd like to go through today.
Bookster and Booking.com history
The first is really just to help you understand if you'd haven't worked with Bookster and together with Booking.com before.
We are continuously going through changes.
There's always lots of little things that are changing behind the scenes, but Booking.com and Bookster have partnered together since long before I joined Bookster, and there have been four really significant milestones that provide really good opportunities for our clients and actually their guests.
So you can see the milestones on the screen, I'm not gonna go through them in detail, but it does mean that our clients are able to attract really good bookings to achieve their average daily rates that they're looking for, provide great service to their guests, respond quicker to questions, and looking at reviews.
So if you are interested in talking further about that connection and how you can use that and benefit from it, then you are more than welcome to get in touch.
But that's not what we're here to do today.
Guest booking peaks through the year
Before I go to my next slide, I would like to ask you a question.
They're all about the polls today.
This has really been inspired by a conversation that Sharon and I were having earlier in the week, and it was looking at people who are looking to get their properties on board.
When is the best time to do it? What's the best strategy?
Because it's not simply a matter of clicking a button and that's it.
Everything's got to be ready and as good as you would want it to be.
So my question to you is, when do you get the majority of your bookings?
So this is for you who are existing property owners, existing property managers, you've been working in the industry for a few years.
I'm really looking for your information here to when you get the vast majority of your bookings. So there is a poll on the right-hand side.
If you could answer that, that would be amazing.
I know a lot of people will be getting direct bookings in the summer, especially from repeat guests, but there obviously are a lot of new bookings that come through as well.
So it'd be interesting to see how that works.
So what's interesting there is there is nothing coming through for Autumn and Winter. That's a really big split. Okay, that's interesting.
Thank you. So let me just move you onto the next screen.
Booking insights from Bookster
And for those of you who can't see my screen, if you listen to this on the audio, what I'm showing here are booking peaks from quarter 4 2021 open until now, quarter 3, 2023.
And these are some insights that have gone and looked at from within Bookster. The reason is every winter or autumn roundabout.
Now when our sales team is talking to new property owners or existing property owners looking to get new properties on the goal for, when they're looking to get this done, is more than often to get the properties ready for the beginning of the year.
And what I was talking about with Sharon is that from our side of things, actually the beginning of the year is almost too, too late.
If you're looking to start getting new properties on, it would be more strategic if you got your properties up ready and live to take bookings before that.
So if you look at this data that I've got up here, you'll see I've put green circles around certain dates.
You can see that there are spikes in the bookings that are really starting the last week of November. Now, for my data from pre Covid that was slightly different, it was just maybe a week later.
And then Covid obviously nobody looks at that data, but certainly the data right now, you can see that last week of December, so maybe the 25th, 26th of December onwards, those booking spikes, like they're really very visible.
Recommendations for new property owners
So if you are waiting to get your photos done in early January or get your listings ready, you're not gonna be able to take advantage of those particular bookings that are coming through.
Now, if this is you, I don't want to panic you, so if you don't think you're gonna be ready by December, then don't be completely disheartened because as you can see, I've also circled that in March, both last year and this year, huge spikes in bookings that come through in March.
And actually over the course of the spring, that is a really increased level of bookings that come through and then it drops off.
As I can see from your answers to the questions as well, it really drops off in Autumn and wintertime.
So my recommendation, if you can be ready by December, by that kind of last week, and by ready I mean having your photos perfect, having your listings perfect, getting yourself on your software, being ready to go, then that will get you in really good stead for 2024.
I'm gonna leave this here now because I know Sharon's gonna cover some of her advice from a Booking.com perspective on this.
So I'm going to pause and I'm gonna move on the slides now to Sharon and she's gonna take over with her insights as well, over to Sharon.
Sharon Kellett, Booking.com
Thanks Kelly.
Agenda
Yeah, so just in terms of an agenda from myself today, I wanted to start off with having a bit of a look at some of the short-term rental trends that we've seen from this year and also some of the travel predictions that have been announced for 2024.
Then, we'll take a little bit of a look into some of the initiatives on Booking.com's side, such as the Travel Sustainable and the Travel Proud program.
Then we'll take a little bit of a look at kind of the foundations and the basics, on Booking.com and why it's so important to get the basics right in order to help your property perform on the platform if you're also onboarding new properties.
I'll also take a little bit of a look at what we're doing to help new properties perform on the platform and what you can also do to help give your properties the best chance of getting their bookings right away.
And then we'll finish off with some questions and answers as well.
So without further ado, we'll move straight onto the travel trends.
So these are some of the trends that we've identified over the past year.
Mobile Booking trends 2024
Going back to 2022, Booking.com was actually the most downloaded online travel agency app globally with over 80 million downloads.
So quite a lot and 20 million of those downloads were actually from the US market and how this can help yourselves really is if your direct website isn't optimised for mobile bookings or if you don't potentially have an app, then we can help you tap into this fast-growing segment of mobile bookers on the platform.
Homes booked on Booking.com
Looking at the home segment or the alternative accommodation segment, we've seen in quarter two of this year that room nights were up 11% versus last year, for our home segment.
And now, over a third of the total room nights globally are coming from our non-hotel accommodation.
So this is really important because the more that this segment grows allows us to invest more into the marketing far, for our homes as well.
So I'll touch on that later and what we're specifically doing, for this segment in terms of marketing, then looking at payments.
Payments taken on Booking.com
So there is an option for Booking.com to facilitate your payments on the platform. And we are seeing that in quarter two, almost half of all of the Bookings process was processed through the payments platform.
And this is, when I talk about the payments platform, it's really alternative payments. So anything such as Apple Pay, Android Pay, the likes of Alipay in China, ideally pay in the Netherlands, there's hundreds of different payment methods.
So Booking.com can then facilitate those payments for you and then allow you to tap into extra business.
One of the most recent ones that we use is Klarna, where the part payment for customers can pay and instalments for their holidays, which has proven very popular.
Flights booked on Booking.com
We've also started working with flights as well, so you can now book a flight through Booking.com and in quarter two, flight sales were up 58% versus the year before.
And I think what's really interesting here is that 20% of those bookings, so a fifth, are completely new customers to Booking.com that haven't booked accommodation before.
And this is quite good because it can allow you to tap into a new source of demand as well and it's really like what we hope to do is to convert these flight brokers into accommodation brokers as well.
International travel is back
Probably no surprise that international demand is back as well. So during the peak of summer in August for the UK, 18%, or sorry, the international demand was up 19% versus the year before.
And to find out the split of international versus domestic, you can find this on your extranet as well.
So if you have multiple, if you have multiple properties, you can find this out in your group Extranet under the group analytics tab.
Individual properties, you can find this out under analytics and Booker insights on your individual property extranet.
International customers book further in advance and have a longer length of stay.
The benefit of attracting international customers is that they tend to book further in advance and they also have a longer length of stay.
So many customers will, once they return from a holiday, they'll book another one, to get over the blues.
Add availability up to 18 months in advance to attract international demand.
So it's really important to have as much availability loaded as possible to appeal to international travellers.
And on the platform you can load availability up to 18 months in advance with the, with the US market for example, it's actually quite a nice time for them to book into the UK because of the attractive exchange rates.
So it's quite nice if you're looking to boost your US demand to ensure that you have the availability there.
On the flip side of that, looking at exchange rates, it's a little more expensive for European customers to come to the UK at the moment.
So it's important really to ensure that your pricing is competitive to the international markets that you're targeting.
Can I just ask a question? You mentioned where to get information on the internet. Could you send me those links later on and I can send them out?
Yeah, yeah, of course.
That'd be amazing. Mm-Hmm. Okay.
Ensure pricing is competitive.
And also just on the international demand as well, we have an option on the extranet where you can apply targeted promotions to, for specific countries that are, that you want to target.
For example, if you wanted to look at target European customers or if you wanted to target specifically the US market, you can do that.
Booking.com Travel Predictions 2024
And then just moving onto the travel predictions for 2024, you may have seen that we launched these a couple of weeks ago.
I've added the link, at the bottom left of the page there, but also I'll supply the link afterwards as well.
And so the travel predictions are where we survey over 27,000 travellers across 33 countries and ask them everything about where they want to travel to, what their, what they value, what they're looking forward to doing on holidays and what's important to them.
So I've just added a snapshot of some of the predictions here. But the full amount of predictions are on the link provided.
62% Enjoy the anonymity of travel and the chance to recreate themselves.
So 62% of customers basically said that they value the chance to recreate themselves on holidays and for yourselves in terms of appealing to these customers, you may want to, it may be something to do with providing information on activities nearby different unique activities that your area has to offer, such as things like, different hikes available if you're in the countryside, or water sports or water activities available if you're near the water.
It may be just anything unique about the property itself. If you offer things specific, like reading corners within the property and a chance to really display anything unique for your property.
56% - Say that as temperatures soar closer to home, they will use their holiday to cool down elsewhere.
56% say that as temperatures soar closer to home and they'll use their holiday to cool down elsewhere.
I probably doubt that many people in the UK are saying it this summer. But, I did see in the news that European travellers were travelling to Scotland to escape the heat wave, over the summer period.
So think about potentially how you can attract these European travellers maybe through a targeted rate, as we just mentioned and down for next year.
65% - Want to see the outside brought indoors with green spaces and plants in accommodations on holiday.
And then 65% say that they want to see the outside brought indoors with more green spaces and plants in the accommodations that they visit, and 60%, say that they want to see sustainability and action.
So just think about how you can represent that within your property.
I was having to think about this first part - 62% wanted the opportunity to recreate themselves.
And initially I was struggling a little bit and then I remembered when I was on holiday in Thailand 10, 15 years ago maybe, and I specifically chose a location where there was, an American gentleman who had married a local Thai lady and the two of them were offering their holiday rental.
And you could go and do like a course, not really a course, but like spend a day going up into the mountains with the Thai lady to go foraging or you could spend time with a gentleman whose previous life had involved making jewellery.
So he gave you that opportunity to make jewellery with him and it was kind of part of the package that you were there and you were, you were part of their home, but you were doing something new and kind of building those new experiences.
And I thought that's exactly what people are looking for. So I think it's really interesting.
There are so many opportunities there.
Yeah. And that really, it really adds to the experience as well.
Exactly. Mm-Hmm.
81% - Want to try indigenous cuisines in 2024
A massive 81% say that they want to try the local food when they visit an area.
And even though your properties may not have food included, just having something in the property or even recommending the customers where they can go to taste local food, will definitely help with things like your review scores and the value that you can add to the guest.
58% - Of parents plan to travel alone, dropping the kids and their partners to prioritise themselves.
And as well, or to the experience, 58% of parents plan to travel alone.
I thought this was quite an interesting one. Dropping the kids and their partners to prioritise themselves.
So it could be quite a big year for solo travel, and maybe looking at things of getting away from the hustle and bustle for a relaxation holiday.
So just really thinking about how you can then benefit from attracting solo travellers, maybe through solo prices or single occupancy rates and trying to appeal to those travellers.
50% - Plan to pick destinations in 2024 where the cost of living is less expensive than their hometown.
The cost of living is still gonna be prevalent next year with 50% planning to pick destinations in 2024, where the cost of living is less expensive than their hometown.
So really I think just about how you can add more value to the experience, maybe even providing more utensils in the property so that the customers can cook more from the property, and alerting them to where the nearest shops are nearby as well.
I think there may also be a poll.
I thought just about making it less expensive to work with your local partners.
So if you do have a cafe or restaurants nearby, you could do some kind of partnership agreement where your clients and your guests might be able to get a discounted rate at the cafe for breakfasts.
And that benefits both the cafe and, and your local businesses and yourself as well. And it gives the opportunity for guests to feel like they are getting something of an additional value.
I know I've mentioned it before, my husband will always book places where he feels like he's getting a good deal on the breakfast or if breakfast is included in some way.
So that's definitely a pull, it's a pull for our house. Maybe not a pull for everybody, but, right.
Let me have a look at the next poll or the next poll's. Interesting. Okay. That sparks quite a lot of debate between myself and Sharon. So Sharon, I'll let you introduce the poll.
The next poll is just on AI and would you use AI to plan your trip, if you're booking a holiday?
That's interesting. Those numbers are flipping about when it all came, when it came up. A hundred percent no, at the beginning I thought that was gonna be the way it was, but actually it's kind of evened out a bit.
It's very much maybe in line with our staff then as well.
Shall I go to the next slide?
Yeah, yeah.
48% of people would trust AI to plan a trip for them.
So one of our other predictions was that 40% of customers we surveyed said that they would now trust AI to plan a trip for them. I would definitely be in that 40th percent.
I think it's, yeah, AI is everywhere at the moment and it will, it will just expand over the next couple of years.
You may have heard, or may not, that we launched our AI trip planner last year, or actually during this year.
Sorry, I'm getting ahead of myself, but it's actually being tested in the US market at the moment and it's planning to be launched globally in 2024.
So this is where you can just go on to the app and tell us that you want to go on a holiday, what your budget is, if you want, say a family-friendly property near the sea, then we will, our AI will generate suggestions based on what you've asked for.
So really interesting and developments there. So look out for that in 2024.
Now, just moving on to some of the Booking.com initiatives.
Booking.com initiatives 2023
Advertising
So at critical times throughout the year, Booking.com will launch advertising campaigns to keep your properties top of mind for, for customers.
So just if we look at the bottom right hand picture there, this was taken from our TV advertisement that we actually launched at the start of the year, in the US and it was an advertisement starring Melissa McCarthy that was launched during the Super Bowl commercial in order to really help with boost on our brand awareness in the US.
And it also, I dunno if anyone's seen the advertisement, but it's very much focused on saying that we list everything, homes and apartments and everything in between.
We also added, or made massive improvements to our check boxes and our filters where you can now filter for entire places to stay. And we have made the messaging a lot more clear on the website to say that we not only do hotels, but we do everything else as well.
And so that's really helped to boost the, the visibility of homes and apartments on the website and we're continuously experimenting with that as well. And then moving on to the future of travel.
So our teams have been working very hard over the last couple of years to develop sustainable travel and the travel pride programs.
Travel Sustainable
The travel sustainable program in a nutshell is a program where we can show customers sustainable properties and how we can help partners showcase if they have sustainable practices happening at their properties as well.
We found that 83% of our customers wanted to travel more sustainable, but 41% didn't know how, and 73% said that they would be interested in booking a sustainable property.
So we partnered and we collaborated with individual companies that are external, such as travellers to bring about the travel sustainable program, which is a list of facilities and practices on your extranet, that you can choose from and to indicate what practices that you're following.
The benefit of this is dependent on what you choose. you'll then be allocated a sustainable badge, which helps to promote your or to, to bring about your, to increase your visibility of the properties.
And this is displayed on your property page and your search results page.
And by having this added, it also helps to improve your guest experience as well, because it gives the practices helps to manage the customer expectations at the point of booking as well, so they know what to expect not only that, but we've also added some extra resources and guides on the partner help centre to even further your efforts on becoming more sustainable.
Could I ask a question really from a guest perspective, maybe more than from an owner's perspective?
If people can choose to tick the boxes to say that they're doing various different sustainable practices, how is that, how is that verified? How's the guest actually gonna be certain that that's gonna be the case when they arrive?
Definitely a good important question. So whenever a customer checks out of a property, we will send a survey to the customer to verify that those practices have taken place.
I've actually had it myself after staying at another property. and then if there was, if we're seeing that, everyone's saying that that's not the case, then that's something that we'll investigate further.
Okay, great. Thank you.
Travel Proud
Our research also showed that over 50% of LGBTQ plus travellers had had an inhospitable or uncomfortable experience whenever they stayed at a, at a property in the past.
So that's formed the basis of our Travel Proud program that we've introduced. And the Travel Proud program is an external hospitality training, in partnership with an external company called Hospitable Me or Hospitable.
And that's a 90 minute online training where partners can take part on or take part in, to talk about best practices within the industry and how they can have more inclusive and welcoming behaviour to the LGBTQ plus community. and the benefit of doing the training, I would recommend this.
It helps with the visibility of your property, because once the training has been completed, you will receive a certification, but you'll also receive the badge on the bottom left hand of your screen, which will be showcased on your property page and on the search results page as well.
It's completely free to take part in as well. And yeah, it's something that can really help, with boosting your property too.
Just for anybody who wanted to do that, how would they, to do the training, how would they coordinate that?
Who would they need to contact to do that? Yeah, there is a link on the partner help centre if you put in travel proud, but we can also send that, I'll send that across afterwards, so that you can then send through to any of the participants.
And if you are a property that has our property management company that manages many properties and they're all self check-in, then you can, you don't have to do the training for every single property.
So you can complete, depending on the number of properties, you can complete the training a couple of times and that will be sufficient to have the badge on all of your properties.
Fantastic. Okay, thank you. Moving on.
Setting up your holiday homes on Booking.com
Diversify rate plans: early booker, non-refundable and flexible policies.
Now we'll move into the building and the foundations. So we see guests on Booking.com like a variety of different rates and policies and different setups.
So we see that many like to book early in advance and are forward bookers like myself so they appreciate an early booker rate, which is just an attractive rate for customers to book further in advance.
Experiment with pricing: travellers perform a cost benefit analysis when booking.
Others are more price sensitive and prefer to book a non-refundable rate at a slight discount, which is also a benefit, for yourself as a partner in order to help secure business reduce your cancellations as well.
And our most popular rate or policy on booking tends to be the flexible policy where you give a free cancellation up until a certain amount of time before arrival, to, and that's, that's your, your highest rate booked.
But I do recommend definitely experimenting with pricing, different pricing for different times of the year, for different periods in terms of weekdays and weekends. And also to keep an eye on events as well in your local areas.
Set or Update Policies & Fees
Ensure all information related to how you take payment, extra charges for cleaning, etc
And it's important too to just be really transparent about any extra fees, like cleaning fees that you have on the system too.
Content is another, fundamental and can be often overlooked as well.
63% of customers use photos as their primary source of information while searching for a stay.
So 63% of customers use photos as their primary source of information, while searching first hand, perhaps unsurprisingly.
And whenever we talk about content, we mean everything from the description to the host profile to your facilities and to your photos.
So we recommend having, you can have as many photos as you like, but we recommend having your first six photos as the best photographs, very high, like sort of high definition photos as well.
So very clear, appropriate sizes and your first six to show all of your unique, unique selling points within those first six.
Then, just facilities we're constantly adding additional facilities, so make sure you've added things such as, like Netflix if your property offers that, because that can also be a very good selling point.
Thinking about the photos, because there's always discussion about what should be your first photo, and you are saying within that your best photos should be those first six.
Yeah. How would you recommend, like, would you have the kitchen first or how, how would you recommend?
I actually recommend having either the bed, or the front of the property first.
So, I would recommend following the customer journey if you're, if you were showing them around in person, so just showing your, you would want to have a photo of all rooms, including the bathroom in your first six.
The bed tends to be one of the ones that is key. but definitely have the kitchen in the first six as well, and make sure that if there's any, yeah, any USPS that you're displaying them, like if you have a nice balcony or a nice terrace, having that in there as well.
It is always very important and just avoid, I definitely recommend having different angles off the rooms, but further back in the, in the photo album. So not to just duplicate six photos of the bed in the first six photos. so just have one of each photo.
That's amazing. Okay, thank you.
Host profile:
Add a personal touch to your listing

Upload host or company logo

Highlight Property Management Services
Also, we have now got the host profile section. This is under property and general info and, or property on my profile.
But, this is where you can add a personal touch to your listing.
And this example here shows the facilities that the property has. It talks about the view and it gives, yeah, a very nice personal touch, but you can also upload your company logo as well.
And this just adds extra credibility to your listing if you are a professional company that manages many properties. And a little bit of information here about what Booking.com is doing in order to help you protect your property.
Damage policy on Booking.com
So we have introduced our damage policy, which it's not fully released yet for all properties. It's still in testing, but it is hoped to be released for every property by next year.
And at the moment, it's available for properties where Booking.com facilitates the payment on your behalf.
This just means that the damage deposit, if there is damage at your property, you can submit a claim through the extranet and Booking.com will then contact the customer to recover the funds.
We launched liability insurance as well in the last couple of years, and this is if you have any liability claims from the customer, Booking.com can help with that with a limit of up to a million pounds.
You can find out a lot more about this. This is under property and general info and there is the option there as well for house rules, which allows you to set certain criteria, the customers need to read and agree to before they book your property. Such as things like pets, information about pets, quiet hours, smoke and policies as well.
I've just seen a question here that's actually related to the damage. There's a question from Steven that asks for damage.
Does the owner need evidence that damage was not there before the guest checks in?
It would be good to provide as much evidence as possible, in the claim. So, I know a lot of partners will kinda sort of have, a bit of a, a show around beforehand, to show what the property was like before and then the after photo.
So when you submit a claim, you can do this completely through the reservations tab on your extranet.
I would just advise, submitting as much information as possible there, including receipts for any replacement items and also photographs of any damage. So just as much information as you can put in there.
Let me just move on. And then looking at new properties. So just a couple of quick facts that we now have, 7 million vacation rentals listed on Booking.com and more than 40% of new vacation rental listings get their first booking within a week.
This is quite a big objective for us at the moment to really increase the time it takes for properties to get their first bookings because we know the quicker they get a booking, the more likely they'll get additional bookings and perform better.
We have two thirds of travellers who have booked a home with us, and return to book homes again. So, repeat bookings are definitely a thing. And the majority of our bookers are yet to book a home on Booking.com, so there's a huge amount of untapped potential there as well.
For those property managers or property owners who are new to working with booking and trying to make the most of the kind of advantages that you give them when they're first ranking with you.
I can cover it now and also on the next slide. So we've been to, so, both the, in terms of whenever you're listing a new property, it's definitely beneficial to have it ready to go because we will give a tag to new properties that have been onboarded. So you will get a little yellow new to book and tag, which is there for the first 90 days.
And this helps to establish trust with customers that it is a new property and that's why it doesn't have a review score as yet. and it just helps to boost the visibility of the property to get the first booking as well.
So just to make sure that, yeah, we touched on the photos that your photos are good, that they're tagged, and that all your facilities are ticked because we'll be trying to, we'll be working in the background trying to get the property it's first booking.
It would also be beneficial, from your side as well, if you're like, in terms of tips to, to get your first booking to offer an attractive Rate to get the first booking and the first review.
So you might want to do that just by offering a lower price, or you can offer a promotion specifically for new properties, such as the new property deal.
And this just allows you to give 20% off for the first three bookings that you receive.
Some of the things that we're doing as well to support new properties is that if the property doesn't have a review score, we will show review scores from third party travel websites, to help, get the properties, another review from or another book and from, from ourselves. And we will also provide you with performance insights.
So, if we can see that, for example, your property is, has a very strict cancellation policy, but we can see that the majority of customers within that area are book on a free cancellation policy, then we will offer an insights on this, on your, on your property page to any ability to then, offer like to, to the best chance to get a book and is potentially by reducing your policy, or it might not be that, it may be that we can see that many bookers are coming from, domestically or from the EU.
So it gives you insights into what we're seeing in terms of demand and how you can then apply different products or programs to capture that demand.
Yeah, I would say one of the things that I, I notice when you have a new property manager coming on is that they're very keen, quite rightly, to be listed on Booking.com or whatever channel it might be, and so might rush that initial process just to get on and they don't end up going onto the channel with their optimum photos or with the best listing.
You know, it is more of a let's just quickly get there and then we can start taking bookings.
But really, if you're wanting to take good bookings and you want to get set up, you need to be, my recommendation is definitely you need to be ready, you need to have your listings in a really good way. Mm-hmm.
I'm saying that, and as I'm saying the words there is also that kind of fear that if it's not quite good enough and you're tinkering around with your wording and your content and so on, also don't do that because that's gonna slow you down too.
There's a kind of a sweet spot in the middle where you've got your property listing set up, you've put in what's, what's available, what's nearby, you've got your photos, then you're good to go.
So just trying to find that sweet spot is, is ideal. Definitely.
And then it can also help with the reviews as well.
Exactly.
So just in conclusion are some of the key takeaways. Definitely keep an eye on market trends, both within your area and, and trends, across the board and think about how you can use these to capture the demand.
For example, thinking about mobile and payments trends and how you can attract those bookers.
I recommend definitely taking part in initiatives such as the Sustainable and Travel Proud program. They're both free and they're universal, globally. So it's a good way of really showcasing any initiatives that you're taking part in, or any practices that you're already following.
Getting, it goes without saying, but getting the basics right. It's often overlooked. So really keeping an eye on content frequently, you know, updating photos and trials and what's best, just to ensure that you're not missing out on bookings and setting up your new properties for success.
So I do really recommend having a non-refundable rate, to appeal to different types of travellers. And then adding, things like the host profile can just give extra information, about your property, what customers are looking for as well.
Questions for Booking.com and Bookster
A question from Sandra:
Q1. One of the problems many owners have with booking is that there's not enough space for detailed descriptions of properties.
So yes, definitely the description. So we have the description and then we also have the, the host profile section. The description is auto generated when you onboard the property, just because this allows us to translate it into over 43 languages.
But then we did recognize that there was a need for more description, so that's whenever we launched the host profile where you can give a little bit more in-depth information with the sustainable practices.
So we are still experimenting with how to best list those on the property.
They are listed on your, on your property page. but we also, with, depending on what criteria you select, you will also be given the badge, which is, level one to level three, and it's in, it's shown via a leaf symbol.
And so one, two, or three leaves, and that's then added on the property page and the search results page. But we will, we're also experimenting with having filter options so the customers can filter out sustainability properties.
But it's, yeah, we're still at the, at the beginning of this initiative and there's a lot more to come there as well. I wonder if we can find an example of a client of a property owner who's got that little leaf symbol on their property and we can share that afterwards as well.
Q2. So I did the travel prior training a few years ago, but would like to refresh.
Yeah, it should be possible to refresh the training, it's available.
Yeah, we'll share the link with you afterwards and, that will be on, it's under the partner help centre as well, but as far as I'm aware, there's no, there's no limit on the number of times you can complete the training or if you want to have more than one of your team complete the training, that's possible as well.
Q3. Do you have any stats to show if charging a cleaning fee decreases bookings will live in a very rural area and the cost of turnovers is significant? So short one to three bookings are not really viable unless I charge a cleaning fee and then a very competitive nightly rate.
So it is definitely, so the like decrease in the cleaning fee will impact in terms of your price competitiveness within the market. So yeah, like it's, it's definitely like a lot of partners do add a clean fee.
I would say probably the majority have that there, so it's definitely something customers probably expect whenever they're, whenever they're making a booking.
But it's just to play around with the price in there to ensure that you're still competitively priced within the market.
So I would recommend to sort of check your competitors within the area, to check sort of what the averages that they're offering in terms of a clean fee.
I would add to that as well, that ultimately this is your business and if you end up underpricing the services that you offer and your cleaning of property or cleaning your property and you're not getting sufficient income for that, then in some circumstances it may be better just not to take this, the bookings for those periods of time, because in the end, there's no point in working if you're not making profit from this.
So I'd really consider valuing what your time is or your cleaners time, the cost that you're paying for your cleaners and considering are those bookings actually worth you taking and in some instances it just might not be worth taking them and that's okay.
Q4. And if you're targeting new properties, how does that affect older, if you're targeting new properties higher, does that impact on older listings?
I would say there's not much of an impact on older listings in terms of the, whenever new property properties previously would come onto the system, they don't initially have a review score, and they can drop to sort of the very bottom of the pile as such. So they don't essentially get a, a fair go or a fair, chance at getting bookings right away.
So then with the new to Booking.com tag, just more of it helps to just highlight to the customers why the customer doesn't have a review score just yet because we do find that customers may be a little bit, not trusting of properties that don't have a review score because it's one of the things that the customers will look for.
So it just really helps to, to put them on a bit of a more of a level playing field with the older properties that have a higher review score.
Q5. Does it help to make updates to your listing regularly?
So, I guess it is whether or not by making regular updates to the property listings, whether that's gonna affect the algorithm of how high or low a property can rank within Booking.com. I would say depending on what customers are looking for.
So I think just having a, like a refresh of your like kind of checking in on your facilities and your amenities and your photos can definitely help, in terms of refreshing the listing.
And you know, if there's new facilities that we've just launched and any facilities that we launch are generally what customers are looking for, what we've seen that there's a demand for.
So just filling in those properties will help you appeal to what customers are looking for, which will help your bookings as such and your conversion and that will then naturally help the overall performance of the list.
Q6. What are the three major challenges that Booking.com would like to perform better?
I think at the moment really getting the, like one of the, the major challenges is just getting the payments process correct.
We want to be able to offer customers the chance to pay how they want to pay and with what they want to pay with.
So that's one of our major objectives to really improve the payment processing, across the platform.
We also have an objective with the connective trip, which is where a customer can essentially come to Booking.com and book their flight, book their car or their taxi from the airport and book their accommodation all in one go.
And that's what is currently what has been worked on at the moment, still in the early stages, but, but getting there, when you take longer bookings, does that affect the amount of general bookings you are likely to get?
I would say not necessarily because we now offer, the opportunity for you to take stays of up to 90 days that were launched in the last sort of year and a half or so. Generally, a lot of partners tend to prefer the longer length of stay in terms of the operational costs involved with it.
So it's, yeah, it's, it's, I would say it's beneficial to, if your strategy is to attract longer length of stay bookings, we have the ability for you to, have weekly rates and monthly rates added where you're then attractive in terms of price to those longer length of stay bookings. So it just really depends on what your strategy is in terms of bookers.
We see that the longer length of stay bookings are increasing, and growing. but predominantly we still see the most amount of, of business or the most amount of demand coming through for short, shorter sales.
You can see this on your extranet as well, through the market insights on your group homepage, under the analytics tab or under the individual, extranet under analytics and Booker insights.
Okay. We've got two more questions and then I think we're gonna have to stop. We might even get thrown out. yeah, Going very low as well.
There's a question there from Rocco, and it's asking:
Q7. what are the three major challenges you see all accommodation owners are facing?
I have one to throw into the mix predominantly because I'm based in Scotland and before that I was based in Spain and I do a lot of work with American clients as well.
And it's gotta be legislation. It is a major challenge and in some cases it's a major barrier. In other areas it's more of a challenge to work around and try and, you know, make sure that you meet the requirements.
If not, yeah, exceeding expectations may even be a good way of thinking about it, but in some places, you know, it is a major challenge. There's my one, I'll let you add another two if you have another two. I would say probably, like automation as well and, and efficiency in, in bookings just to, yeah, having, as much automated as possible.
So we help with that in terms of, like automating, messaging templates to customers, and things like that.
I don't know if, if you have anything to add, Kelly?
Another challenge, I would say a big challenge is just trying to understand the market because the market's changing.
You can see it's even changed this year and trying to understand well what a customer wants and what their expectations are and making sure that you can provide a service that's gonna meet those expectations.
And it's hard because, you know, lots of different types of guests are travelling and they all have different expectations.
So I think really understanding your guest is a challenge that everybody has and actually it's quite a fun thing to try and understand and try and find solutions for. So it's a fun challenge, I would say.
And on, yeah, and understanding the market trends as well. so keeping up to date with what the market's doing. and I definitely would, yeah, would recommend checking out the analytics because we do give search demand on it, it updates almost on a daily basis and looks at the characteristics of travellers coming into your area, over the last two weeks.
So it can really help to give some more insight on what you can offer, as well to customers and how you can tap into demand.
So I think, yeah, definitely have a look there as well.
Okay. One final question about damage cover.
Q8. The damage cover, if we set it at a high rate, it will pop guests off, and can only claim this on set.
So yeah, damage deposit, it's always quite a tricky one.
So if you're facilitating the damage deposit yourself, that will be listed to the customer at the time of booking and it can definitely act as a deterrent if the damage deposit is too high because if the customer is gonna have that charge before they arrive, then they may not have that additional money in their account, are, may not want to pay it at the at the start, before they're booking.
So yeah, it's kind of finding the sweet spot again, of not deterring customers, but also keeping yourself right with the, the new damage program.
And that will soon be launched for everyone, with that one. The customer doesn't have to pay anything upfront, but they will be, they will know that they will be charged for it if necessary.
So, in that way, it's more likely that the customer will convert and meet the booking because they're not actually being charged at the time of booking or before their arrival.
So we've introduced this policy, or this program as a way of increasing conversion for our home partners. so that at the moment is available for customers who, or for partners, sorry, who have their payments completely facilitated by Booking.com.
And you will see this on their property and, and policies section of your extranet. And, if it's not there, don't worry. It will be available soon and we will keep you updated with that as well.
It's amazing.
I would like to add to that, that in some cases actually your damage deposit working as a deterrent is a good thing.
You, there are certain people you do actually want to deter from visiting your, your property and the damage deposit is one way of doing that. So it's a strategy and it's worth thinking about.
But it's a great question because it is important you protect your property as well.
---
Other events with Booking.com
Have you watched our previous event with Booking.com?
Bookster and Booking.com
Bookster launched the channel partnership with Booking.com in 2017.
As part of our ongoing commitment to enhance your opportunities for bookings through your chosen channels, we regularly update the Booking.com channel connection. We're here to support you!
Using Bookster and Booking.com to build your holiday rental business
Are you planning to attract more bookings this year?
Let Bookster help you.
Our team is dedicated to developing tools and strategies aimed at attracting bookings, supporting guest interactions, and streamlining the operational tasks associated with booking management within your company.
Whether you oversee a single cottage or a larger portfolio of 300 apartments, we invite you to schedule time to talk with us. Share insights about your specific needs and business, and let's explore how our solutions can be tailored to assist you.
---
Sharon and Kelly cover the latest trends and developments in Booking.com and Bookster.
They provide the data and support to help you prepare your business to attract more profitable bookings.