How can I make my direct booking website more trusted
Key Takeaways
Adding trust to your website will help increase conversion
Guests can have numerous concerns when on a holiday rental website
You could add: A testimonials page, About Us page
Remember to spell check your website, and add Partner Icons
If you need a professional website, try a Bookster Instant / Custom Website
Or use an external agency, using the Bookster booking buttons.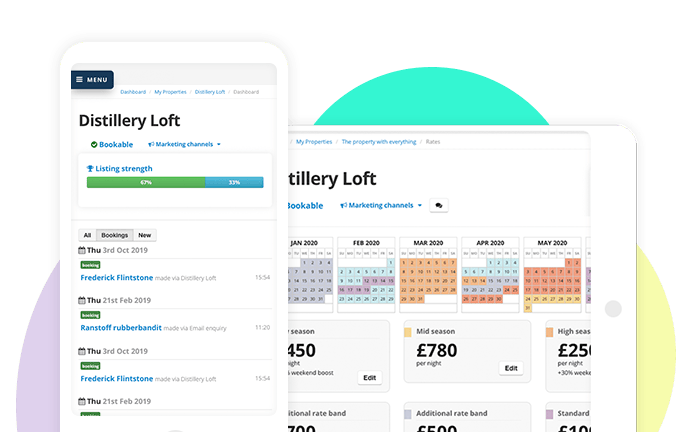 ---
Web visitors need to have the confidence to book on your website. So how can you help them? We'll dig into techniques to demonstrate trust and increase your conversion rate.
---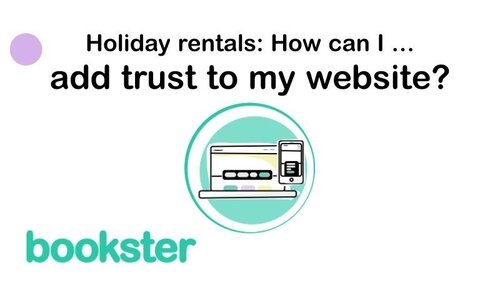 To help visitors through this booking process, they need reassurance that your website and your business is genuine. 
How can I add trust to my holiday rental website?
A large part of the guest booking process on holiday rental websites involves trust.
Visitors pay large sums of monies on your website, in exchange to become guests for your holiday rentals.
To help visitors through this booking process, they need reassurance that your website and your business is genuine.
What do guests worry about when booking direct?
The internet has growing numbers of unscrupulous people, who apply underhand tactics.
Guests may worry:
Is the company real?
Will my credit card details be stolen?
Will my identity be stolen?
Is the holiday home genuine - Will it be there when I arrive?
Will I get my money back if there is a problem with the booking?
Will the holiday rental be as nice as the photos show?
Will someone help me if there is a problem?
So how can you add trust to your website?
So you're a genuine, trustable company, but now what?
How can you separate your holiday rental business from the fraudsters?
You have a number of options, and we'll cover the most popular below.
Show reviews from past guests, and if it is an option, show your replies too.
This demonstrates trust in a number of different ways. Most importantly, your potential guests can see that your property is a real place, and they can see how you look after your guests.
This page can show your story, your own and your team photos.
This is an important page to demonstrate that you and your team are genuine people, with a history of providing holiday rental experiences to guests.
Check for spelling errors on your website
Spelling may not be your thing, but it's important to get it right on your website.
Errors can create distrust, and websites with spelling errors tend to rank lower as visitors spend less time on the website.
There are lots of tools that can help you to check your spelling. I tend to run my content through https://languagetool.org
A sprinkling of trusted partners icons
Holiday rental businesses like yours can demonstrate trust by partnering with other trusted companies.
Each of those companies will have logos that you can use on your website, once you are a partner.
We recommend considering partnering with the following trusted companies:
Payment Gateway providers
To take direct bookings, you should use a trusted Payment Gateway that can accept payments through your guests' visa or debit cards.
Companies like Visa, Google Pay, and Stripe offer your guests protection in the case of fraud.
There are a number of associations for holiday rentals across the globe.
If you are not already a member of your local or national association, we recommend getting in touch with them.
Associations will support your business, provide educational material, and demonstrate that you're a genuine business to your guests.
For further details contact PASC in England, ASSC in Scotland, ASTRHO or VRMA in the states.
Recognised awards will demonstrate that you are a trusted company.
Awards like Green Tourism Awards demonstrate commitment to the environment, which is an additional plus.
Companies like i-Prac verify the validity of the property manager and the properties.
This is essential for demonstrating that your company and your properties are valid, creating a significant level of trust with your guests.
Have an easy-to-use, professional website
Your guests may not know all the technicalities about websites, but the look, feel and speed of your website will give or reduce confidence in your business.
Not got a website yet? We can help.
There are a number of different options available to you.
Create your own Instant Website
The Instant Website is offered as part of all Bookster packages.
This website can be up and running in minutes, providing your web visitors with an easy-to-use website that will take direct bookings, quickly and easily.
How will an Instant Website show trust?
An Instant Website offers the following techniques to demonstrate trust:
Add your own logo
A professional website with your own branding
Add logos of your partners
Add Professional reviews eg, reviews written about your property in a magazine
Add guest reviews and feedback sent to you in a questionnaire or via email and reviews written in your own Guest Book.
Create a Custom Website with Bookster web developers
You can speak with our web developers to create your own Custom Website.
This website is detailed, with branded pages to suit your business needs.
How will a Custom Website show trust?
A Custom Website offers the following techniques to demonstrate trust:
All the benefits of an Instant Website +
Reviews from Feefo, Trustpilot, TripAdvisor
Reviews left by guests on your website.
Create a Custom Website with external web developers or web designers
You can create your own Custom Website using web designers or web developers from an external agency.
This will offer the option to use the Bookster booking engine - either Book now buttons or Booking calendars to help you take direct bookings.
The options that you add depend on the skills and techniques of your web developers.
---
Adding trust is an essential part of helping visitors to your website to have the confidence to book your self-catering property.
There are lots of options that will add trust.