Event: Selecting a website for your holiday rentals
Key Takeaways
Watch the replay
Kelly and Robin cover 3 options for selecting a website for holiday rentals
Instant Websites are easy, cheap and quick and included in some PMS packages
DIY Builders are flexible, require some tech skill, are often separate from PMSs
Web Professionals are Web Developers and Web Designers
These cost more, produce a flexible website, are more independent from the PMS.
Selecting a website for your holiday rentals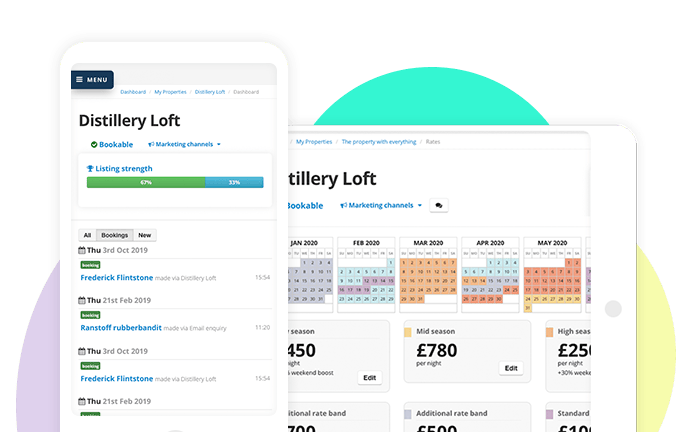 ---
In this session, Robin and Kelly of Bookster share knowledge about 3 different website options available that will help you attract bookings on your own website. 
---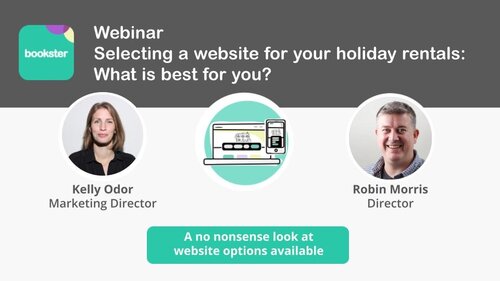 A no nonsense look at website options available.
How to select a website for your holiday rentals
Do you want a website, so you can attract guests to book your holiday home, but aren't sure how to get started?
In this replay, you'll discover 3 of the main website options available, and understand the Pros and Cons of each option.
You'll leave with a clearer knowledge of your options, so you can choose what's best for your business.
Agenda
Welcome and Introduction to Bookster services (3 mins)

Overview of different website options to attract guest bookings (5 mins)

Introduction to DIY Instant Websites (5 mins)

What are they?

Who are they for?

Why have an Instant Website?

Introduction to DIY Website Builders (Wix, Squarespace, WordPress etc) (5 mins)

What are they?

Who are they for?

Why use a Website Builder?

Introduction to Pay a Pro - Custom Websites (5 mins)

What are they?

Who are they for?

Why use a Custom Website?

Q and A session (5 - 10 mins)
---
Script for 'Selecting a website for your holiday rentals'
Kelly:
Hello and thank you for joining us today.
My name is Kelly and I'm the Marketing Director in Bookster.
I'm joined today with Robin, the Director of Bookster.
Robin:
Hello, nice to be here.
Kelly:
Nice to have you here.
Today we're here to introduce you to 3 different website options in the holiday rental market.
We have one goal.
The goal is to leave you understanding more about the Pros and Cons of 3 different website options specialising in holiday rentals, we really want you to be better informed for what option is best for you and your business.
This session is for holiday rental owners and managers who don't have a website yet, or perhaps you have one but you aren't sure if it's the right option for you or what alternatives are out there.
We're not going to down a rabbit hole of technicalities and jargon, the idea is that this is a light introduction to some of your options.
We'll have a Q and A session at the end, so if you have questions, please add them to the chat section on the right, and we'll answer those questions during the Q and A.
Introduction 5 mins
Kelly:
Bookster is a property management software company, based in Edinburgh, specialising in providing services for holiday rental managers and owners.
Our clients need tools to attract guests, manage guests' needs, and to help with those everyday tasks, in managing bookings and keeping on top of everything.
The reason we are covering this session today, is because part of the service that our clients use to attract direct bookings, are our Instant Websites and our Custom Websites, or their own website with our Book Now buttons and Bookings Calendars…
…and as a result of this part of our business, our clients tend to ask us a lot of questions about the different options, and the differences between them.
So we've collated some of the questions our clients have asked us, and we'll go through the answers today.
Overview
Kelly:
So let's start with the 3 different website options that you'll learn about today.
There are a lot of different website options available, so this list is not exhaustive, and we're not going to go into each option in minute detail, but we're going to cover the 3 most common that we see in this industry, that our clients talk to us about.
The three that we will cover are -
Instant websites
Do it yourself website builders
And Pay a Pro, which can be a mix of website builders made by web designers or websites built on the code written by web developers.
DIY Instant Websites 5 mins
Kelly:
What are they?
These are websites that a Property Management Software company, like Bookster, can offer you.
When you work with a property management software company (PMS), you'll add your business information and property listings information, so you can take bookings by working with channels like Airbnb, you can manage your bookings and support your guests and you'll do it in one place.
For an Instant Website, your PMS will predominantly use the information you've already added, to create the content for your website instantly, with just a click of a button.
And what you'll have is a direct booking website, that your guests can use to make bookings with you.
Because it is specialised for the holiday rental industry, an Instant Website will already have all the specialist features built in that you'll need for your holiday rentals.
So you'll have a bookings calendar, and book now buttons, and pages that show all the relevant information about your property, listings, photos, reviews and your business.
And you can set up your website using a template, so you'll be able to select from the different styles, and different colour palettes, which added to your company logos will create a limited opportunity to create a branded professional-looking website.
And it will be optimised for ranking in search engines like Google automatically.
Disadvantages of Instant Websites
In an Instant Website, the pages and the structure of the website are fixed.
You don't have that flexibility and the options to add new pages if you decide that it would help your business to have a page dedicated to reviewing local restaurants, detailing the tide times, adding a list of local businesses.
It won't give you that flexibility, it is very structured to doing the thing it needs to do, which is convert visitors to bookers.
If you move to another property management company, then that website is made with the content you have added to your property management software (PMS), so if you choose to go elsewhere, then the website wouldn't work for you anymore.
Advantages of Instant Websites
It's easy. You click a button and you have a website, and it doesn't get any easier than that.
It's built specifically for the holiday rental industry, and has in-built into it the tools that are needed to help guests book, so it's got a high conversion - it has that process baked in.
You'll only need to update your property information in one place, as the information you put in your PMS software will then be shared on your instant website, and on the channels like Airbnb. If you decide that you want to update your photos to reflect summer, then you can update it in your software, and you won't need to duplicate the effort.
A lot of the feedback we get from clients focuses on the price, as we include an Instant website in all our packages.
Who are Instant Websites for?
It will be a more basic website, it won't have lots of extra pages and lots of extra options, so if you're focused on building a website that will help you rank in the top 3 in Google, competing with the likes of Airbnb and Booking.com for your local area, then this is not the website for you.
This website would suit you if you are a property manager without the technical skills to build your own website.
Perhaps you have limited time, or interest available to get your website set up, and you don't want to be still tinkering with your options in 6 months time.
This site is also great for you if you are new to the industry, and you want your website to be up quickly so you can start taking bookings and focusing on those other parts of your business that need your attention right now.
Perhaps you are established in holiday rentals, and you simply want something quick and easy, that you know will suit your holiday rentals, will convert well, and you can leave it to do its thing.
Robin, is there anything you'd like to add to this?
Robin:
The overarching thing about websites, in general, is that it is very important that early on to get your own domain, eg www.mygreatholidayrentals.com, so it can start something out onto Google that starts ranking.
That's something that an Instant Website is very good at, because you can get your content out there and get some age into your website. One of the factors that Google or Bing will use when they are ranking your websites is how old it is.
I know for a lot of our clients when we mention Domains they don't really know how to get one, we will put out a Domain cheat sheet on how to do this.
DIY Builders - 5 min
Robin:
What are DIY Builder websites?
We are talking about the likes of Wix, Squarespace or WordPress.com or Weebly.
There is a whole industry out there selling you the ability to build your own website.
These are online tools for creating a website, you log in and register for. You can create a website on your own, from scratch.
You have probably heard about them on your favourite podcast!
Who are DIY Builder Websites for?
These are tools that purport to allow you to build a website for 'any' type of business or application. And they do cover a lot of bases.
They will be aiming at plumbers or lawyers, any type of business, they will try to cover all those bases.
Advantages of DIY Builder Websites
They will give you lovely templates and vast scope for editing and creating beautiful websites. They do typically look very nice.
You can link out to your booking system like Bookster or your PMS, and you can embed availability calendars for single properties.
If you know what you are doing… they can be quite fast to set up you can get a lovely looking website up and running very quickly. If you have a little bit of confidence and you are willing to play, then you can get it up and running quickly.
It gives you control - you have lots of control over how the website looks and is laid out and there are great plugins that you can use to extend the functionality of your website.
Like to tinker - if you are a little bit technically adventurous and have a low number of properties, these DIY systems could very much be the right choice for you.
Disadvantages of DIY Builder Websites
So what is the hitch?
Why would you simply not always use them?
A bit of a learning curve - although they are designed to be as easy as possible… you still need to learn how to use them and by the very nature of being a generic tool, you will need to make choices and understand a little bit about how a website works.
Syncing with your PMS - Well, if you have multiple properties, a strong bond to your PMS (syncing up property details for example) is difficult (although not impossible) to achieve. So when you update your properties inside your PMS, you will need to log into your CMS to make the same changes.
User experience!
Beautiful vs Functional - a website is a functional tool, not a brochure.
Prospective guests are likely to be very goal driven when they arrive on your website… if they can't figure out how to book easily, there is a fair chance they will bounce back to Google.
On these types of websites, your availability searching and booking will typically involve jumping out to another website (and perhaps domain) giving a slightly jarring user experience.
Pay a Pro - 5 mins
Kelly:
The final option that we'll look at today is the option to Pay a Pro, a professional, who is a web developer or a web designer.
You'll find these professionals either working within your Property Management Software like we have in-house web designers, or working in an external professional web development agency.
Now what's interesting about web developers and web designers is that they provide different options.
Some web professionals use a Website Builder, so they are effectively doing the same or similar thing that you can, but as they are experts in this field they'll be able to dedicate their time and experience to doing this, and they'll charge you for that expertise.
Other web professionals, and generally these are web developers, will build the website from scratch using their own code.
They will likely have a rough template that they have already built, and they'll create your website using their own template, but to your specifications.
Unless you know HTML or CSS code, then it's very unlikely you would be able to do this yourself.
When it comes to adding your booking calendar, and book now buttons, they'll have 2 methods.
The first method is that they work with a Property Management Software like Bookster, and they'll ask us for the tiny bit of code that will mean that guests can book directly on your website, and the booking data will go into your software which means you've got your booking data all together.
And their second method is to use a direct connection with the Property Management Software that they have built using something called an API. This API pulls property listings information directly from your PMS, to display on your website.
Advantages of Paying a Web Designer or Web Developer
Flexible to suit your brand and the design that you're interested in
Paying a professional so you're more likely to end up with a website that is more optimised for holiday rentals.
The web professional may be knowledgeable about other areas of expertise, so they can support you with other aspects of the business, like Optimising for search with keywords, and Google Analytics, and Adwords and knowledge of software providers who can support you with managing your business.
Disadvantages of paying a Web Designer or Web Developer
The disadvantages are threefold:
The price is quite restrictive.
And the second disadvantage is time, as it takes to make the site with a good designer
And the 3rd main disadvantage is that it can be difficult to find a web professional who is an expert in the holiday rental industry, which has quite specific requirements.
Who are Custom Websites built by Web Designers and Web Developers for?
These websites are for property managers who have money to pay another person to build their site, and you're looking at anywhere from £2,000 up to the sky depending on what you want.
They're great for people who really want to add lots of pages, lots of content, and get it optimised to rank so well in the search engines, that it can knock Airbnb and Booking.com off the top spots.
They're great for people who want to have a more flexible website, but aren't confident in building it themselves.
And they're good for property managers who have no intention of staying with their property management software, because if you change software, you'll still keep your website.
Quite honestly, sometimes it's better to work with a professional who knows what they are doing, and has the expertise that you don't have.
---
Bookster property management system provides a selection of no-fuss tools and techniques to attract direct bookings.
In this session, Bookster shares knowledge about 3 different website options available that will help you attract bookings on your own website.
The choice you make will depend on your circumstances and business needs.
Frequently Asked Questions
Is the event free to watch?

Yes, there is no cost to watch.

Do I need to know about websites before I watch the replay?

No, this event is for holiday rental owners or managers who haven't got a website yet, or perhaps want to make an upgrade. No technical knowledge is needed.