Attract guest bookings for Spring
Key Takeaways
You can fill Spring gaps by lowering prices, but there are alternatives.
1. Promote to the right people, eg Flexible adults (Damian Sheridan)
2. Share what's happening in your local area (Anna Morris)
3. Team up with local busiinesses to create a unique special offer (Jenn Boyles)
4. Optimise Easter bookings by optimising rates for peak season (Robin Morris)
5. If guests have a history of negative reviews, decline it (Leo Walton)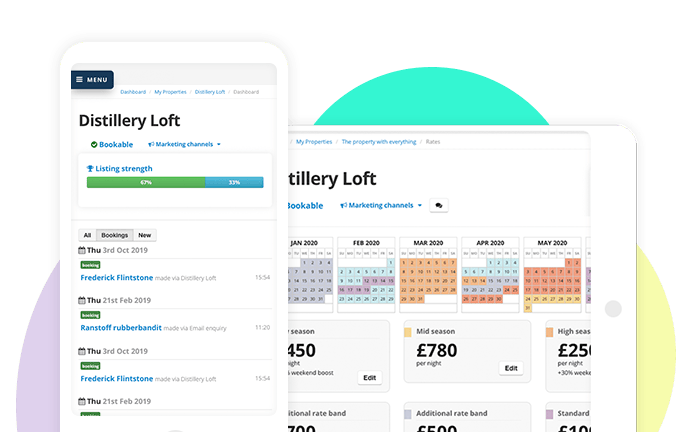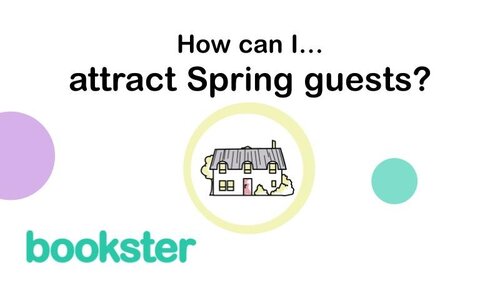 Lowering your property prices reduces your revenue, so don't jump straight to price reductions and special offers as your first strategic choice.
Attract guests bookings for Spring
How to attract the right bookings for late Spring and Pre-Summer peak season
The January flurry of bookings is subsiding, and Summer 2023 looks like a bumper year for holiday let owners and managers.
But what about those empty places in late Spring?
If you have gaps in your calendar that you'd like to fill with quality, high value bookings, what can you do?
All too often property managers drop their prices.
But lowering your property prices reduces your revenue, so don't jump straight to price reductions and special offers as your first strategic choice.
We asked industry experts Damian Sheridan, Beth, Anna Morris, Jenn Boyles and Robin Morris, for their advice on how to attract bookings for late Spring, and before the Summer madness begins.
Let's discover their tips, and fill those Spring spaces.
Damian Sheridan, Book Direct Show and Scale Rentals
"Late spring is a fantastic time to travel.
Warmer weather and not too busy.
But not everybody can get away in late April or May. Know your target market for this window of opportunity.
If you are communicating through email marketing or social media marketing, now is a great time to ensure you're promoting to the right people.
Focusing on flexible adults over families restricted by school holidays can really work.
Sharing branded content with activities and local recommendations (e.g. music concerts, activities, bars, restaurants) tailored to this audience is key."
Anna Morris, Adore Scotland
"Tap into local events happening around your holiday homes, and share that information with potential guests.
Guests aren't coming to see your property, they're coming to join in with local events and enjoy your local area.
They don't know the area like you do, so share the best attractions, and create demand during those periods.
At Adore Scotland we look at sporting events, such as rugby and golf tournements, and festivals, such as foodie and local produce festivals.
When you're researching events, remember you don't need to be limited to what's happening in your neighbourhood.
Guests can and will travel across the city, or to a neighbouring town using their own or public transport, so tell them how this can be done easily.
We find we get best results from creating blog posts on these events, and using email marketing and social media marketing to really boost our visibility."
Jenn Boyles, Direct Booking Success
"Look at where the gaps are in your bookings.
If you always book up in the summer, then don't speak to summer as much in your marketing.
Speak about the times of year that you want and need bookings.
Team up with other local businesses to share each other's offers or put an offer together that you both could share.
And don't ever forget to add a call to action at the end of all your marketing.
Tell potential guests what you want them to do, for example 'book direct now on our website' and more people will book!"
Robin Morris, Bookster
"One of the principal opportunities for Spring revenue is making sure you're booked with the optimum prices during the entire Easter period.
The audience you are aiming at will be parents and children who have time off over Easter.
Highlight local activities that are great for children while staying at your property (beaches, cycling, adventure play etc.).
Put photos of these activities along side some of your property photos so they are spotted when viewing on OTAs, otherwise known as Marketing Channels (Airbnb, Vrbo etc.).
Also, if you still have empty nights during Easter, ensure your properties are as bookable as possible over the Easter Break - reduce minimum night stays and update check-in/out days to be more flexible."
Leo Walton, SUPERHOG
Last minute bookings brings with them increased opportunties for fraudsters to attack your business.
But have no fear, we asked Leo Walton of Know Your Guest by SUPERHOG for tips on how to protect yourself with last minute bookings.
"As a property manager or host, there are several steps you can take to avoid scams:
Verify guest identity before accepting a booking. You can do this by asking for their full name, email address, phone number. If you are suspicious of a guest, ask for additional information such as a copy of their government-issued ID.
Beware of overpayment: Be cautious of guests who offer to pay more than the asking price. This is a common scam where the guest sends a fraudulent check or credit card payment and asks the host to refund the excess amount.
Be cautious of last-minute bookings, especially if the guest is requesting a discount or is not willing to provide much information about themselves.
Check their reviews. If a guest has a history of negative reviews or suspicious activity, it's best to decline the booking.
By following these steps, you can minimise the risk of scams and ensure a safe and secure rental experience for both you and your guests.
If you are looking to find out more about risk management solution such as guest screening don't hesitate to reach out to Know Your Guest, we are more than happy to answer any questions you have."
---
Thank you to everyone who contributed their ideas and suggestions for filling those Spring gaps.
If you need further help on how Bookster can support your business plans, get in touch.
---
There are a number of strategic options that you can try, if you have gaps in your Spring calendar.
Spend time lookig at how you can attract guests to this special time of year, without damaging your business or revenue.