PSD2 Strong Customer Authentication (SCA) regulation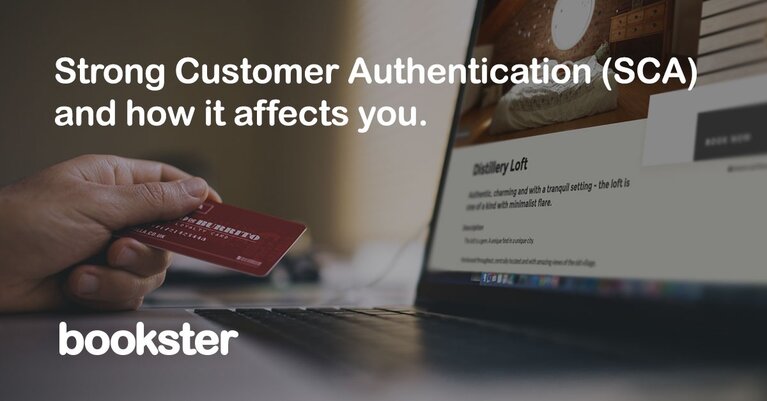 Update 27/08/19: Bookster launches SCA compliance
We're delighted to announce that Bookster is now fully compatible with SCA regulation.
This means our clients meet the new requirements for payments which are made in Europe.
Why has Bookster launched the SCA change ahead of time?
The Financial Conduct Authority (FCA) announced a delayed implementation period for the launch of SCA as noted below.
However Bookster has implemented this change ahead of time, as your payment security is one of our top priorities.
What will you see?
You may notice 2 minor changes:
There will be a minor change to the interface when adding credit cards on Stripe.
Any telephone/cash payments must be made within Bookster against the booking. Only guests can make payments in the Guest Area.
---
Update 21/08/19: FCA announces 18 month delayed implementation (UK)
The Financial Conduct Authority (FCA) has confirmed that there will be an 18 month delayed implementation period for the launch of Strong Customer Authentication (SCA) until March 2021.
This change reflects the position of the European Banking Authority (EBA), which stated additional time was needed to implement SCA. The EBA have not yet announced any delay.
What does this mean for Bookster clients?
Bookster have been working hard to implement the changes for SCA regulation. We plan to launch these changes prior to 14 September 2019 and will communicate on this page when the changes are complete.
---
June 2019: SCA regulation plans
Strong Customer Authentication (SCA) regulation, which is part of the Second European Payment Services Directive (PSD2); comes into effect on the 14th September 2019.
What is SCA?
This is part of a European regulation to reduce fraud and increase security, which has increased significantly over recent years.
Your payment provider (e.g. Stripe, SagePay, PayPal etc) may have already contacted you about this.
When is SCA applied?
SCA will require two-factor authentication on many customer initiated online payments in Europe (direct debits are unaffected as these are merchant initiated).
SCA will affect transactions where the business and the cardholder's bank are located in the European Economic Area.
This means that for a payment to be accepted by the bank, the customer must provide 2 of the following:
SOMETHING THE CUSTOMER KNOWS (e.g. password or PIN)
SOMETHING THE CUSTOMER HAS (e.g. phone or hardware token)
SOMETHING THE CUSTOMER IS (e.g. fingerprint or face recognition)
---
How is Bookster working towards SCA?
We already support 3D Secure for two factor authentication on many of our payment gateway options, and we will review and update the integrations in-line with the new regulations.
Bookster will be compatible with SCA and enable your business to meet the new requirements in advance of this deadline.
Please contact us directly with any questions relating to your Payment Gateway, or any other aspect of your holiday rental property management software.