Meetup November 2019 Summary
Bookster supports property managers to attract guests to their properties through technology, support and training.

Read on to know more.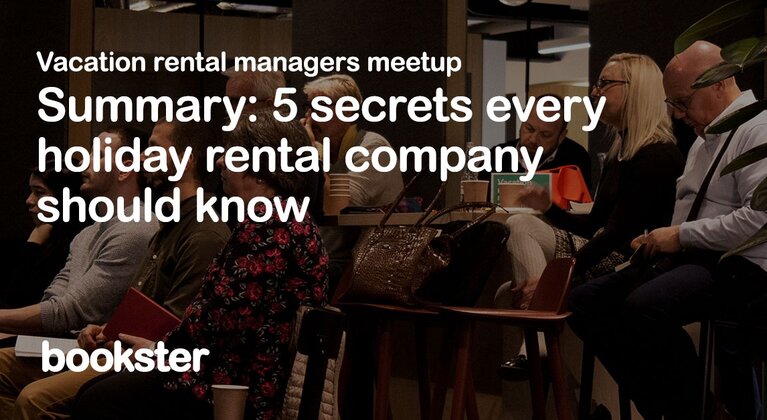 Bookster Vacation Rental Managers Meet-up
In November 2019 we invited the following speakers to present at our Vacation Rental Managers Meet-up.
Robin Morris, Director, Bookster
Rob Jenkins, Managing Director, SquareFoot
Lucy Aitken, Booking Home Partner Manager, Booking.com
James O'Toole, Enterprise Sales Director (EMEA) and Louis Granger, Solutions Consultant, UserTesting.com
Craig Douglas, Director, Reserve Apartments
Bookster invited industry experts from across the holiday rentals industry - and asked them to ALL bring 5 secrets every holiday rental company should know.
---
Content of November 2019 event:
5 secrets every holiday rental company should know
A presentation on software techniques guaranteed to increase your revenue:
Consider adding a minimum price instead of a minimum stay.
Automate guest emails after arrival to check if there are any problems, using personalised messages.
Use discount codes with a greater effect.
Update listing content regularly to improve rankings on OTAs and Google.
Automate your business tasks with a variety of software tools, such as Zapier.
Watch Robin's presentation on Vimeo.
---
Rob provided essential photo and digital media tips for holiday rental properties:
Good photography is essential for selling lifestyle, holidays, brands.
Consider photography of lifestyle within your properties with views and the experience your guest can have.
Preparation is key - remove cleaning product, clean up, pre-empt guest questions by showing what is provided, eg towels.
Floor plans can sell the lifestyle of the property, showing areas for relaxing, the distance of bedrooms to living space.
Videos engage the audience with attractive formats, perfect for social media.
Watch Rob's presentation for some great insights.
---
Lucy explained the latest Booking.com changes affecting holiday rentals businesses, broke down market data and booking trends for Scotland.
There are several Booking.com initiatives to reduce cancellations that you can opt into. Speak to your account manager to discuss what would work for you.
Use pricing strategies to reduce cancellations.
Attract better quality bookings by understanding the trends for when guests book.
Create a better guest experience pre-arrival to reduce cancellations, with automated, personal emails.
Review your cancellation policies to attract guests who won't cancel.
---
James O'Toole and Louis Granger from UserTesting.com
The team from Usertesting.com presented insights on how to improve web performance through testing the user experience:
Go beyond analytics data.
Analyse competitor strengths and weaknesses.
Observe the customer journey.
Optimise your layout.
Understand customer needs.
Ensure consistency across devices.
Don't miss any of it, with James and Louis' video.
---
Craig shared his extensive holiday rentals Agency experience:
Provide great customer service to the right customer.
Find a robust software which will support you to get good bookings.
Organise your Accounting and VAT careful.
Share knowledge, data and experience.
Embrace technology and new ideas to stay ahead.
Want to hear what he said? See Craig's presentation on Vimeo.
---
Bookster events 2019-2020
This was the last event of 2019, and we'd like to extend our thanks to all our speakers and attendees from this and our previous events. We hope you've found them to be useful, informative, and fun.
For more information on Bookster events, please check our Holiday Rental Events for 2020. We'll be attending trade shows across Europe, as well as holding our monthly Meet-Up events.
If you'd like to see other events where we will be over the year, check our holiday rentals events schedules.
Bookster holiday rental services
Bookster has had a great year working with property managers across the globe.
We offer tools to support holiday rental professionals in the following areas:
We're always here to talk further on how we can support your business, or collaborate with other companies working in the industry, just drop us a line or ask us for a demo.