ASSC National Conference 2018
After the success of 2017, Bookster is returning to the Association of Scotland's Self-Caterers Annual Conference and Exhibition, held in October 2018 in Glasgow Hilton Hotel.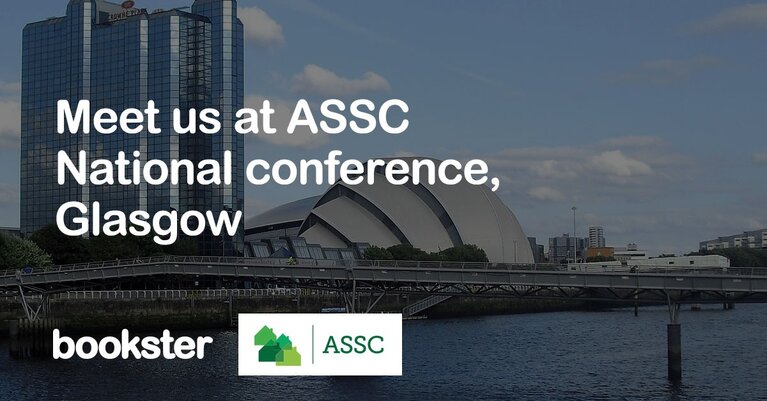 It will inspire, motivate and educate.
On 30th October 2018 Bookster will be heading to Glasgow for the yearly ASSC Annual Conference, the Association of Scotland's Self-Caterers. This is the only association for short-term let and holiday rental accommodation in Scotland and is an unmissable national event for all experts and professionals in the vacation rental industry.
This event particularly important for the short-stay property industry, as it brings together the highest quality of speakers from the UK and offering networking with other professionals across the industry, all in the incredible city of Glasgow.
Bookster attends this event each year, as long-term trade members of the ASSC.
---
This year other exhibitors in the ASSC exhibition area include Bookster partners Visit Scotland, our payment gateway partner WorldPay and our Premier Connectivity Partner Booking.com. We'll be delighted to get together to discuss how partnering with Bookster and our partners will help you grow your holiday rental business for cottages, apartments, flats and entire homes.
There are some particularly exciting presentations this year, and we recommend taking the time to see:
The Usage of Real Time Data to Improve Traveller Experience and Conversion by James Cassidy, HomeAway UK Limited
Five Benefits of Marketing Your Authenticity and Sustainability for Self-Catering Businesses by Andrea Nicholas, Green Tourism and Xavier Font, Professor of Sustainability Marketing.
Check out the ASSC pages for more details on the presentations and the event schedule, and to reserve your ASSC National Conference ticket!
Robin Morris and Kelly Odor will be representing the Bookster team during the day, and will be available for meetings during the event. We'll be on hand all day to discuss your holiday lettings business needs and answer any questions you may have about holiday home management software and specialised holiday property website design.
Bookster is a long-term member of The Association of Scotland's Self-Caterers (ASSC), which is the only trade association working exclusively for self-catering in Scotland. The goal is to provide assistance to professionals in the holiday lettings industry, through the provision of high and consistent standards, to provide a first-class guest experience. We work closely with the ASSC to help them achieve these goals, providing improvements across the short-let industry in Scotland and the UK.
Looking forward to seeing you there!
---
ASSC National Conference 2018 location
Hilton Glasgow Hotel
1 William Street,
Glasgow
G3 8HT
Tel: 0141 204 5555
---
Update 2 November: The Bookster is back from the hugely successful ASSC National Conference 2018, check out our summary and the Summary of the Round Table panel. We'll be back at the ASSC National Conference 2019, get in touch if you'd like to know more.